R+B Named New Jersey 2021 Concrete Merit Award Winner
SOLAIA LUXURY CONDOMINIUMS, NORTH BERGEN, NJ
This project consisted of a new, 15-story tower of 170,000gsf.  The facility includes 4-stories of parking at the lower levels for 109 vehicles.  The new tower provides 70 apartment units overlooking the Manhattan skyline from New Jersey.
Construction was comprised of spread footings on rock with a cast-in-place concrete superstructure.  Structural slabs are typically eight inches in thickness, and the building has a 32-inch thick transfer slab where the use changes from apartments to parking.  The site is cut into a hill so that the lower 4-stories of parking are cascading below the building with drive-in access from grade elevation which eliminated the need for internal ramps.  The construction cost of the building was $48million.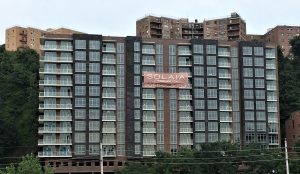 Back to News